STONE RIDGE APARTMENTS IN FAYETTEVILLE
Living with style means that your every need is met, and that's what you'll experience as a resident of our new apartment community. Find out what it means to truly live your life to its fullest, served by our professional management team and surrounded by outstanding interior and exterior design, entertainment, relaxation, convenience and wellness opportunities all within immediate reach. Welcome to Stone Ridge Apartments in Fayetteville North Carolina!
IT'S A WAY OF LIFE
Let Stone Ridge be your sanctuary where comfort and style come together to create a way of life—relax, unwind, live well and enjoy!
Everything you need to live a life of comfort and style can be found at Stone Ridge Apartments, one of Fayetteville's newest and most unique apartment communities. Our spacious and well-appointed apartment homes offer the perfect combination of ease, functionality and convenience. Resort-style amenities, abundant recreational opportunities and a state-of-the-art 24-hour fitness center make Stone Ridge Apartments your perfect sanctuary from the outside world and an extraordinary lifestyle experience.
One Bedroom Apartments in Fayetteville, North Carolina
Our one bedroom apartments in Fayetteville  includes apartments that are perfect for singles or couples looking for one bedroom retreat. A wide range of architectural styles is included in our the collection; you're sure to find a one-bedroom apartment plan that suits your needs. The one bedroom apartments in Fayetteville  offer unbeatable functionality. We offer the best one bedroom apartments in Fayetteville with location and amenities.
One-Bedroom Apartment with One Bathroom
The Riley 827 Square Feet, Starting from $889-$949
Rental Rates include: water, sewer, trash, high-speed Internet, basic/expanded cable, intrusion alarm and washer/dryer in each apartment home.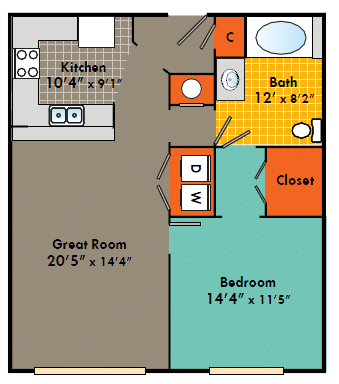 Welcome Home to Stone Ridge Apartments in Fayetteville. Fayetteville is a great place to live, work and play but it's even better when you choose to make your home in one of our perfectly-appointed apartments.